Benefits of our Remote Monitoring Solutions:
Manage any remote asset
Manage assets such as construction equipment, pumps, generators, cranes, pipelines, liquid/gas tanks, refrigerated cargo, chillers, mining operations, fracking sites—from anywhere, at any time.
Monitor sensor data remotely
Obtain sensor data such as temperature, flow, fuel level, and tank pressure. Identify problems quickly and reduce downtime with critical alerts. Gain valuable, real-time insights into remote operations.
Manage critical inventories
Oversee status of pipelines, and storage tanks. Take measurements for environmental, safety and/or quality compliance remotely.
Monitor perishable cargo
Remotely monitor temperature and manage status of perishable cargo. Our cold chain solutions are suitable for small refrigerated truck fleets as well as large multi-zone trailer fleets.
Manage & monitor rented assets
Measure engine operating hours, fuel consumption, mileage, and other metrics remotely. Manage rented assets and create invoices based on operating information collected remotely in real-time.
Improve equipment and cargo security
Companies lose millions of dollars every year because of the theft of cargo, vehicles, trailers, equipment, etc. Fleetilla's solutions can both prevent vehicle, equipment, or cargo thefts, and aid in their recovery.
Gain fault diagnostics insight
Gain real-time insight into fault conditions that may be developing on remotely located gen-sets, engines, etc. Reduce downtime and ensure that technicians are fully informed before they go into the field.
Understand life-cycle costs
Understand the 'life-cycle cost' of your equipment and use it to make better investment decisions.
Get service-due reminders
Get service-due reminders for equipment located at remote job sites.
Obtain accurate usage reports
Receive detailed equipment utilization reports for each job site. Control operational costs. Obtain accurate and verifiable equipment activity data for use in accounting and billing systems.
Reduce travel expenses
Eliminate the need for physical trips to individual sites for collecting engine operating hours or other conventionally gathered data.
Reduce unauthorized usage
Reduce/ prevent unauthorized usage. Know where your vehicles/equipment are or have been and at what times. Identify and reduce unauthorized usage and moonlighting.
Lower maintenance costs
Following a scheduled maintenance plan is the key to lowering equipment M&R costs. Fleetilla's system allows maintenance to be scheduled by a variety of criteria: miles driven, operating hours, time elapsed, etc
This easy-to-use, browser-based application is accessible from anywhere, at any time. View real-time and historical equipment positions, status, battery and fuel levels, and fault conditions.
View data in easy-to-use lists and satellite and map imagery.
Configurable alerts for instantaneous notification of exception conditions
A variety of reports for detailed and summary information on equipment or job sites
Dashboards for single-screen snapshots of the entire operation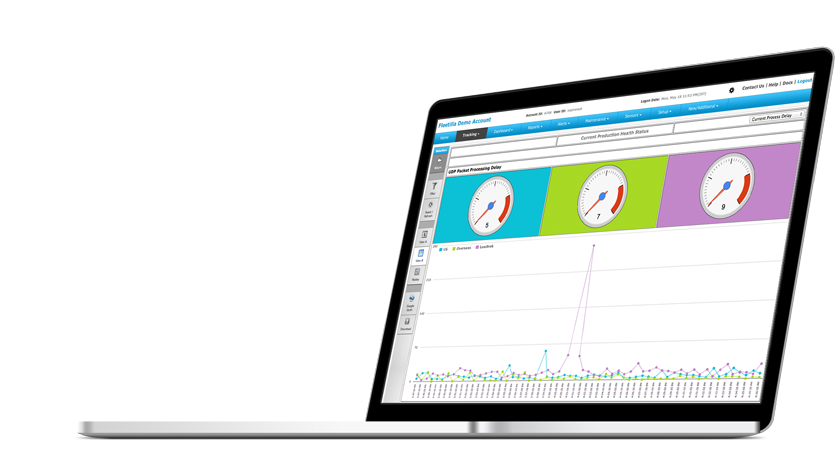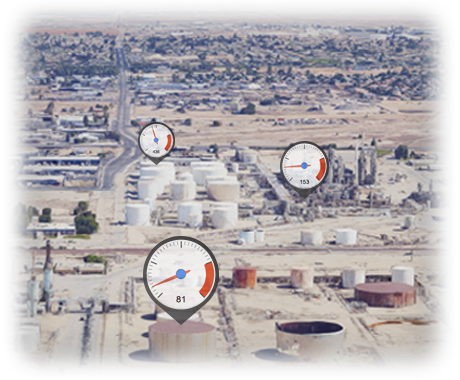 View current equipment locations, activity, fault conditions, etc. plotted on rich, detailed maps with satellite imagery. Integrate with Google Maps, Google Street View, Openstreet Maps, and other custom map sources. Define points of interest, custom map layers, and other relevant features for flexible dispatching and security.
Manage your fleet on the move, with fleetMOBI
fleetMOBI is a version of our web-based fleet-management application, but specially tuned for smart phones or tablets and available in the iOS and Android app stores. Like all Fleetilla products, fleetMOBI is easy to use, intuitive, and uncluttered. Fleetilla also provides a browser-based website optimized for hand-held viewing. Put the right information in the right hands with fleetMOBI for mission-critical business management.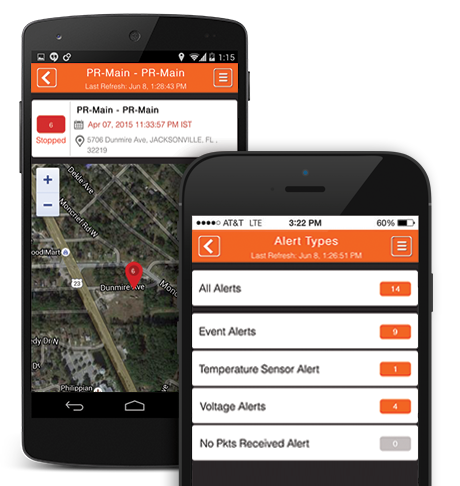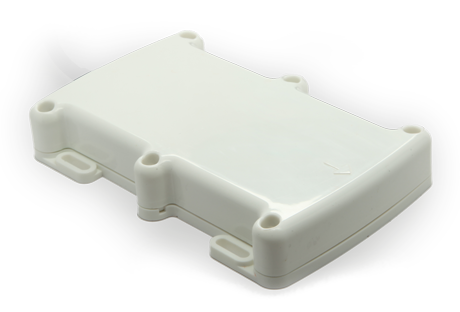 Remote monitoring built on a robust and proven hardware platform
Fleetilla has years of proven experience in designing and developing robust telematics hardware. Our solutions work on most wireless technologies (2G/3G, GPRS, 1xRTT, UMTS/HSPA) and application scenarios (external antennas, compact, waterproof, etc.). And because they integrate seamlessly with our web applications, we can eliminate guesswork and installation headaches.
See beyond location and usage information. We have solutions that let you remotely monitor a variety of sensors and actuators, including simple On/Off switches that indicate whether an engine, chiller, or pump is running or not; and more complex, SCADA-like systems that provide input/output temperatures, pressures, levels, or similar information.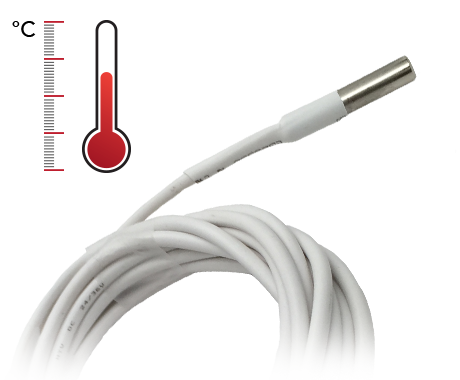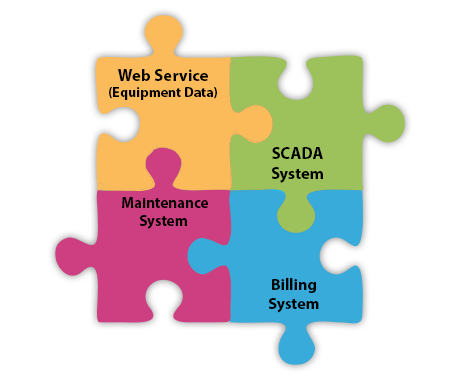 Integrate real-time equipment position, operating hours, sensor values, fault conditions, and other data into your dispatching, billing, SCADA, MRM, or rental equipment management systems with Fleetilla's fleetML interface. We provide all the sample code and documentation needed to get you up and running fast.
We understand your business is complex and may consist of different users needing different types of access privileges. You may want to restrict the information available to a user to a set of equipment, or specific time periods. Alternately you may want a user to have only limited functionality. However, you may also want to have a corporate wide view of your equipment, usage and reporting and fault alerting, while maintaining this diverse user base. Fleetilla's solutions provide tremendous flexibility for administrators in managing the user-base in a complex, geographically distributed business context, consisting of many departments, job sites, access rules, etc.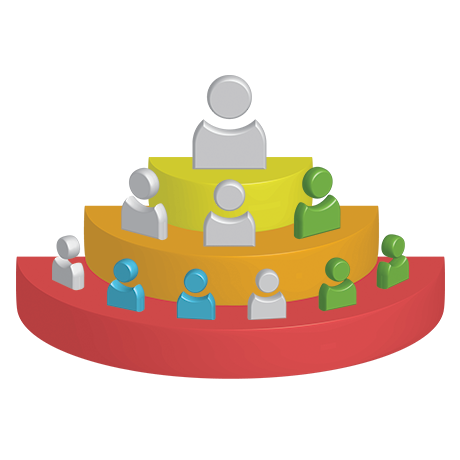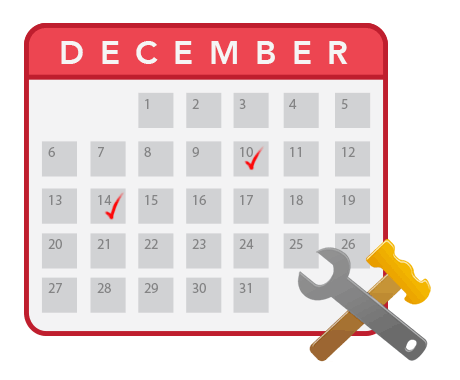 Customize scheduled maintenance plans for your equipment. Periodically generated reports indicate equipment requiring maintenance. Remotely determine fault codes and other triggered error conditions, and get detailed equipment operation data pertaining to potential incidents/accidents.
Solutions delivered from the cloud, hosted in secure, state-of-the-art data centers
Because we understand that your data is mission critical and time sensitive, Fleetilla's solutions leverage modern, highly scalable, cloud-based architectures. Available 24/7 and worldwide, our solutions are hosted on and delivered from such industry-leading platforms as Amazon AWS and Google Maps.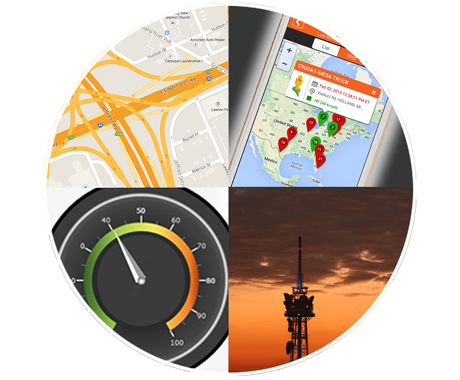 There are many choices when it comes to a telematics and loT solutions provider, but Fleetilla stands out from the others:
An end-to-end, seamless solution approach (hardware, wireless, web)
Diverse solution-delivery experience
Robust solutions built for the most challenging and unique applications
Exceptional customer support and an extremely knowledgeable team
Excited about deploying a Remote Monitoring solution from Fleetilla? Get in touch with us and we will guide you step-by-step