Fleetilla Technology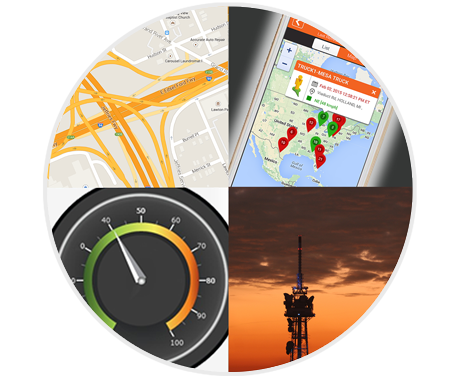 Fleetilla's solutions are built around hardware and software components that leverage commercially robust wireless data networks, scalable cloud infrastructure, and easy-to-use applications. Open and affordable technologies allow our customers easy access to Fleetilla's advanced solutions.
At the core of our technology is seamless integration between sensor, hardware, wireless, and cloud technologies, allowing businesses to capture critical operational data from field equipment. Typically, sensors and wireless telemetry units are installed on field equipment such as trucks, cars, construction equipment, frack tanks, trailers, refrigerated cargo, etc. These may also be located on stationary locations such as oil fields, pumping stations, mining operations, wind farms, and pipelines. These units capture data such as location, fuel flow, fault codes, temperature, pressure, etc. at periodic intervals and transmit this via cellular, satellite, Wi-Fi, and other means. The data is compiled, tabulated, and combined with a variety of cloud-based application components so that critical business tasks such as dispatching, fleet management, asset tracking, logistics, equipment maintenance, and customer service can be accomplished efficiently.
Some of the key elements of our solution are:
Robust hardware devices
Robust hardware is at the core of any telematics/remote-monitoring system. Our solutions are engineered to withstand the voltage ranges and anomalies typically encountered in heavy industrial equipment and environments. We understand that cellular networks vary worldwide and GPS sensitivities vary indoors and outdoors. Our systems are engineered to eliminate glitches, provide seamless connectivity and location determination, and to perform these functions anywhere in the world. From Alaska to Saudi Arabia, our solutions—as in-cab or open installations—operate in the most punishing conditions.
Choice of data acquisition options
Seamlessly integrating data from field equipment is essential to the success of most projects. We have sensors and interfaces that can be used to integrate…
J1708/J1939/OBDII information such as fuel-flow rate, MPG, fault codes, etc. from vehicles, generators, and other equipment
Temperature and humidity sensors to monitor the state of perishable cargo
Analog voltage and current interfaces that can be used to integrate a variety of pressure, fluid level, flow, and other sensors
Advanced ultralow power systems
We have deep expertise in long-life battery-powered systems that can withstand the extremes of weather conditions. Our battery-
powered asset-tracking solutions can last 10 or more years in extreme conditions. Our battery-powered designs incorporate the following:
Ultra-low-power processor-based designs
Robust power-management algorithms
Long-life batteries suitable for extreme weather conditions
Wireless coverage everywhere
Cellular coverage is not available everywhere, and the nature of technology (GPRS, CDMA 1xRTT, HSAP, LTE, etc.) is constantly evolving. Fleetilla's solutions optimize these wireless technologies by considering their coverage, cost, and longevity. We offer cellular as well as dual-mode systems, and our intelligent coverage sensing algorithms smooth over gaps in physical wireless coverage so that your data is least disrupted.
Massively scalable cloud-based architecture
Our applications are built on modern Cloud-based infrastructure and the platforms of leading providers such as Amazon AWS, and Google. These platforms and the innovative architectural frameworks that they employ allow us to provide solutions that are massively scalable and global in nature.
Easy to use applications
Our applications have been designed for the user. Essential functions and features can be accessed simply, in a very intuitive way, and with no training. Most essential functions can also be accessed with low bandwidth connections. We provide support for all major browsers.
Mobile-friendly solutions
We understand that you are busy and mobile, and that you need to access information on the go. With the app extensions that we provide you can access fleet, asset, and equipment data from Android and IOS smartphones.
Seamless enterprise systems integration via API
Easy-to-implement APIs provide real-time fleet data. XML-based APIs can be integrated in a matter of hours.
Customizable at any level
We have end-to-end control over the solution value chain. If you have an OEM/Solutions provider and need a custom deployment, our solutions are customizable at the hardware, firmware, and cloud-architecture levels. Industry-specific (e.g., pipelines and oil fields) and/or region specific maps and other GIS data can be integrated or overlaid onto standard options.